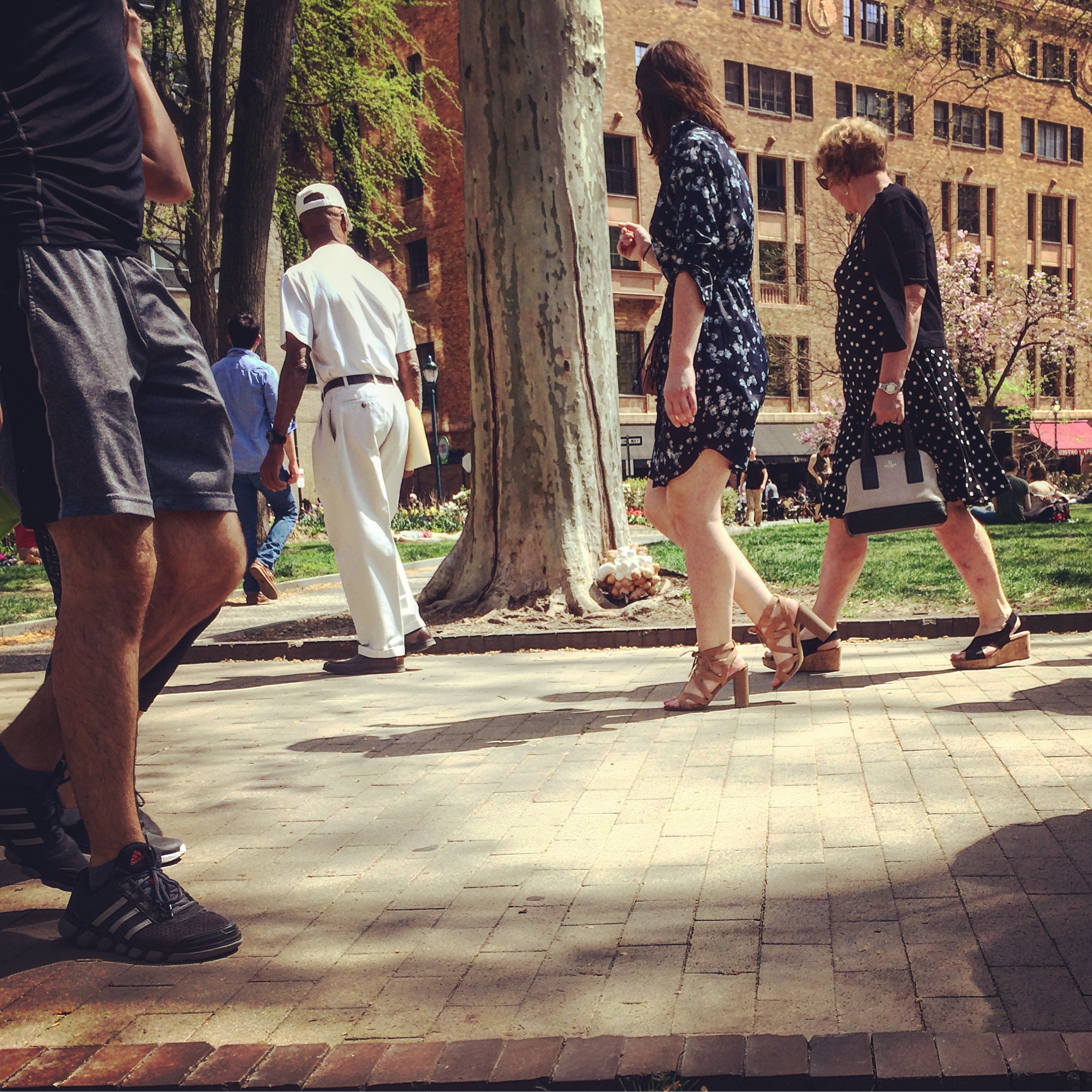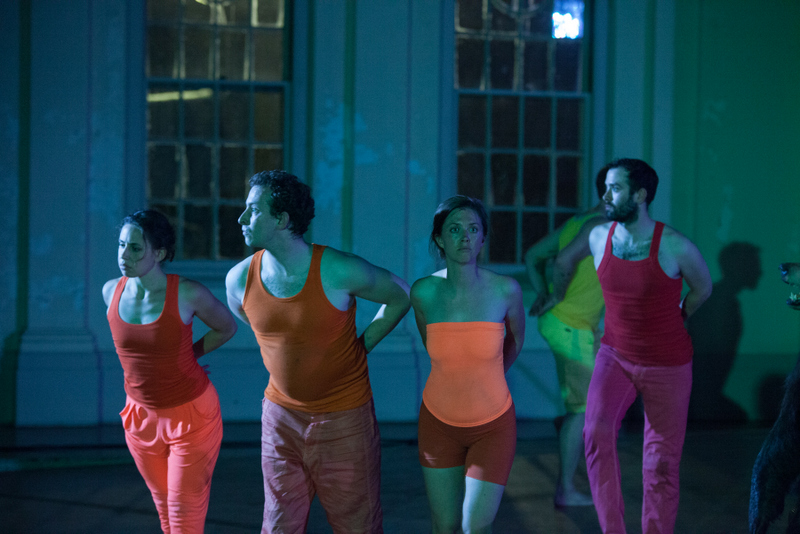 Lovertits. // Annie Wilson
Directed/Choreographed by Annie Wilson
Co-created and performed by Christina Gesualdi, Jenna Horton, and Ilse Zoerb

Description: "Bold. Hilarious. Fearless. The runaway hit of the 2014 Fringe Festival, Lovertits draws on Burlesque's pro-sex, body positive over-the-top subversiveness and postmodern dance's smart, cerebral, awkward choreographies. Lovertits says: having a body, being a body is awesome—and not a little strange. Performers turn their breasts into eyes, their vaginas into purses, their bodies into landscapes, all the while asking: Why does the performance of sexiness look so different from the actual act of sex?"
Performances: Bryn Mawr January 2016, JACK April 2015, PhiladelphiaPhiladelphia Fringe Festival 2014
Development: CPR June 2014, <fidget> May 2014, SmokeyScout Nice 'N Fresh Dec 2013
Destiny Estimate // MJ Kaufman
The Sincerity Project. // Team Sunshine Performance Corporation
Photo by Jen Cleary
Directed by Alex Torra
Created and performed by Aram Alan Aghazarian, Benjamin Camp, Rachel Camp, Makoto Hirano, Jenna Horton, Melissa Krodman, and Mark McCloughan
Description: "Seven performers engage in a contemporary ritual of memory and forecasting, tracking time through first-person storytelling, performance art, physical theatre, music and dance.
Iteration #1 premiered at FringeArts in Philadelphia December 2014, with each subsequent installment presented every two years for the next 24 years. In each evolution of the work, these seven actors engage the same structured performance over time, piecing together a quilt of real lives, memories, and predictions for the future."
Performances: Sincerity Project (2014), FringeArts December 2014.
Sincerity Project (2016), Philadelphia Fringe Festival, Sept 8-18, 2016.
Development: FringeArts LAB, Firs Person Arts RAW Program, assistance from The Orchard Project
 
The Children's Hour // EgoPo Classic Theatre
© James Jackson - raveneyes.com
Directed by Adrienne Mackey
Written by Lillian Hellman
Description: "Lillian Hellman's renowned play, set in an all-girls boarding school in the 1930s, returns to Philadelphia to launch the season. When one of the wealthy girls does not get her way, she destroys the lives of the headmistresses by accusing them of a secret love. This powerful tragedy that confronts the dangers of sexual prejudice, shockingly, still resonates today. Guest director Adrienne Mackey, of Swim Pony Performing Arts, brings this classic to an exciting new life for EgoPo."
October 2015, EgoPo, Latvian Society
The Winter I Didn't Have Sex
Sculpture / Photos by Kate Raines of Plate | 3
Mounting Etna
Directed by Mark McCloughan
Written and performed by Jenna Horton
Description: An 18-minute solo exploring one woman's grief for a past love using absurdist food poetry.
Performances: FringeArts JUMPSTART 2013, Performance Couture in B.I.P.A.F @ JACK
"Horton is Etna, our host for a most unusual gastronomic experience, which includes poetry, sexual double entendres, and even a bit of danger…and, most certainly, laughs. Horton's ability to deadpan any line, whether it's the absurdist poetry, instructions on how to "carve" a chicken, or to ask the audience to allow her to watch us eat her cake, was delightful." (Walter Bender, Stage Magazine)
DALE
Meet Dale. Born February 2015. Doula-ed onto this planet by expert hands of Deanna Fleysher.
Join Dale in eeking out her obsessions—frogs, heaps, development, decay, cycles, cells, eggs, and frogs.
Scratch Night, April 2015
First Friday, April 2015
Good Good Comedy, May 2016
Keep your eyes peeled in 2017. The splash is coming.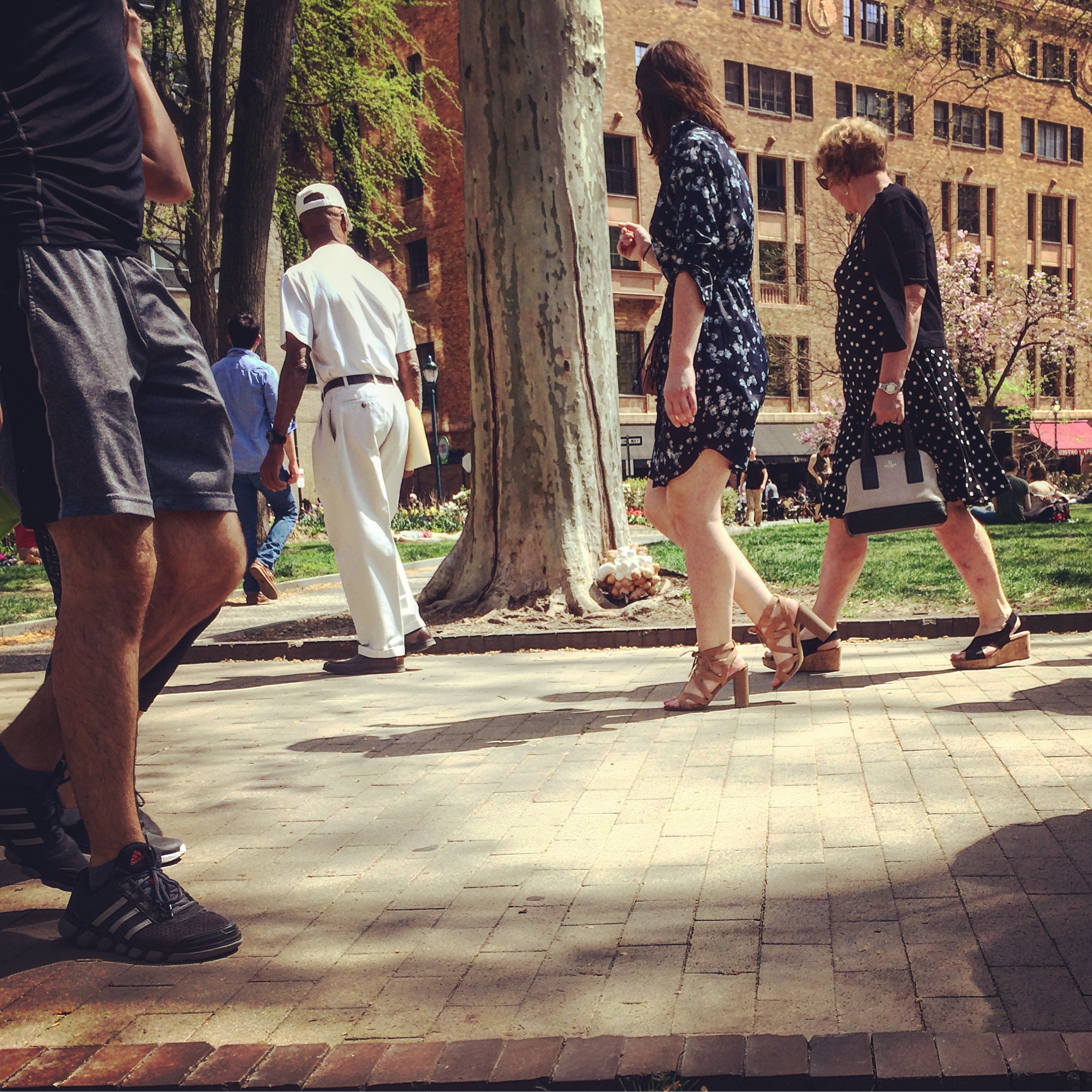 Easter Sunday, Rittenhouse // Public Installation Experiment
Experiment in public, social space with an object that "doesn't belong." Experiment with cutting out mediators: institution, museum, pedestal, white walls, plaque.
What happens?
The Giant Squid. // Berserker Residents and Swim Pony
Photo by Mark Venezuela
Directed by Adrienne Mackey
Performed and created by Robert DaPonte, Leah Walton, Justin Jain, David Johnson, Bradley K Wrenn, Jenna Horton and Tim Sawicki
Description: The ocean's benthic silt holds mysteries some might suggest are best left to lie. Professor Thaddeus Broom is not such a someone. In his terrestrial presentation, he and his team will teach you of the briny deep, bring you to gasp with salty wonder, and coax open your wide pockets to aid in his return journey to the realm of the Giant Squid.
More info here.
CURREAL.
Photo by Kate Raines
Temporary installation created at Goldilocks Gallery.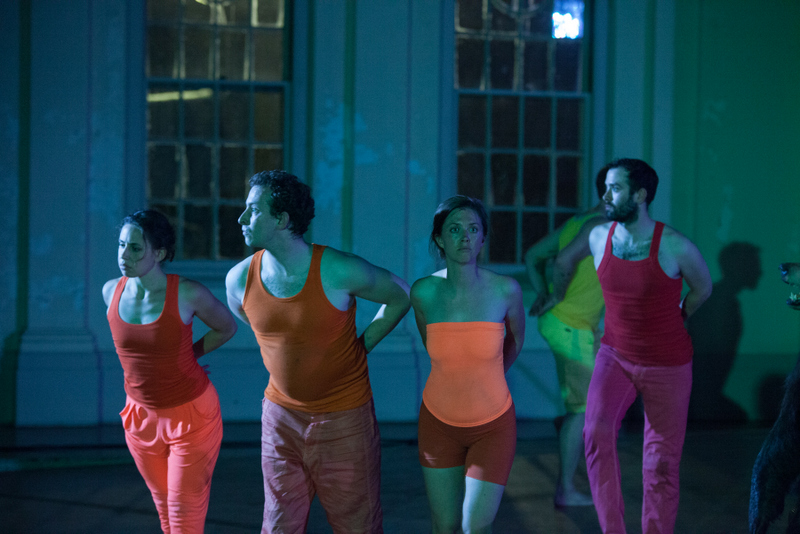 Let the Dog See the Rabbit w/ Lightning Rod Special
Photo by Kate Raines of Plate 3 Photography
Directed by Mason Rosenthal
Co-created and performed by Katie Gould, Scott Sheppard, Alice Yorke, Aram Aghazarian, Alex Bechtel, Dan Higbee, Jenna Horton, Justin Jain, Hannah de Keijzer, Kevin Meehan, Arielle Pina, Justin Rose, and Steve Wright
Description: "Let the Dog See the Rabbit is Lightning Rod Special's investigation into how we look at animals. Steering clear of pink elephants, paper tigers, early birds and night owls, LDSR refuses to restrict animals to the metaphorical margins. Instead we gaze unblinking into the animal eye and reflect what we see there.
More info here.
Vainglorious. // Applied Mechanics
Photo by Kevin Chick
Directed by Rebecca Wright
Description: After the French Revolution and the Reign of Terror that followed in its wake, a young general named Napoleon Bonaparte rises to fame through his military prowess and goes on to conquer much of Europe and rule as Emperor of France. Meanwhile, in Vienna, a musical genius named Ludwig von Beethoven experiences his own meteoric rise. Simultaneously, literary star Germaine de Stael invents comparative literature, the wheeling dealing diplomat Talleyrand reinvents political strategy, and Josephine de Beauharnais redefines First Lady style and grace. This large scale historical fantasia imaginatively captures a moment in time, portraying the lives of these five iconic figures and the remarkable people who surrounded them as they fought, rose, struggled, and fell. Featuring a cast of 26 and condensing 20 years of European history into a tautly choreographed action-packed hour, this piece surrounded the audience in a living landscape of epic proportions.
Performances: Christ Church Neighborhood House in March 2012 (with support from the Philadelphia Performing Arts Kitchen) and April 2013
More info here.
bobrauschenbergamerica. // Brown University
Directed by Stephen Buescher
Played a chicken. Enough said.